Stainless Steel
Currently being developed for the Desktop Metal range of 3D Printers are the following materials in the Stainless Steel category is:
316L (Austenitic) – NOW AVAILABLE
17-4 PH – NOW AVAILABLE
15-5 (PH)
303 (Austenitic)
316L Duplex
410 (Martensitic)
420 (Martensitic)
430 (Ferritic)
440 (Martensitic)
HK30Nb
Nitronic19 (Duplex)
BIODUR 108 (Ni Free)
New to 3D
Printing or looking
for some support?
Get in touch
Trade in
and trade up...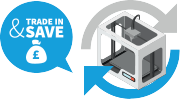 Your old 3D printer could be worth far more than you think!
Find out more