Stratasys 3D printers & materials are embraced by the defence industry for their reliability & innovation.
No industry is more demanding than the defence sector. With components subjected to massive stress in extreme environments – often with life-or-death consequences – it is a ringing endorsement that additive manufacturing technology is increasingly relied upon by the industry's decision-makers, designers and engineers. Yet the demands of the modern defence sector go far beyond strength alone.
With the nature of conflict rapidly changing and innovation all-important, the growing range of Stratasys 3D printers and materials has proven invaluable, and the experts at Tri-Tech 3D are proud to guide our defence sector clients to the optimal solution.
Which Stratasys 3D printers are most commonly used in the defence sector?
From military contractors to national armies, every defence sector client has unique requirements and Tri-Tech 3D's guidance towards the best Stratasys 3D printer varies on a case-by-case basis. In our experience, however, the sheer speed of Fused Deposition Modelling (FDM) often makes this the optimum technology for a wide range of defence applications, and we've seen great results from Stratasys 3D printers like the Fortus 900mc and Fortus 450mc, alongside models in the F series including the F370CR and F190CR.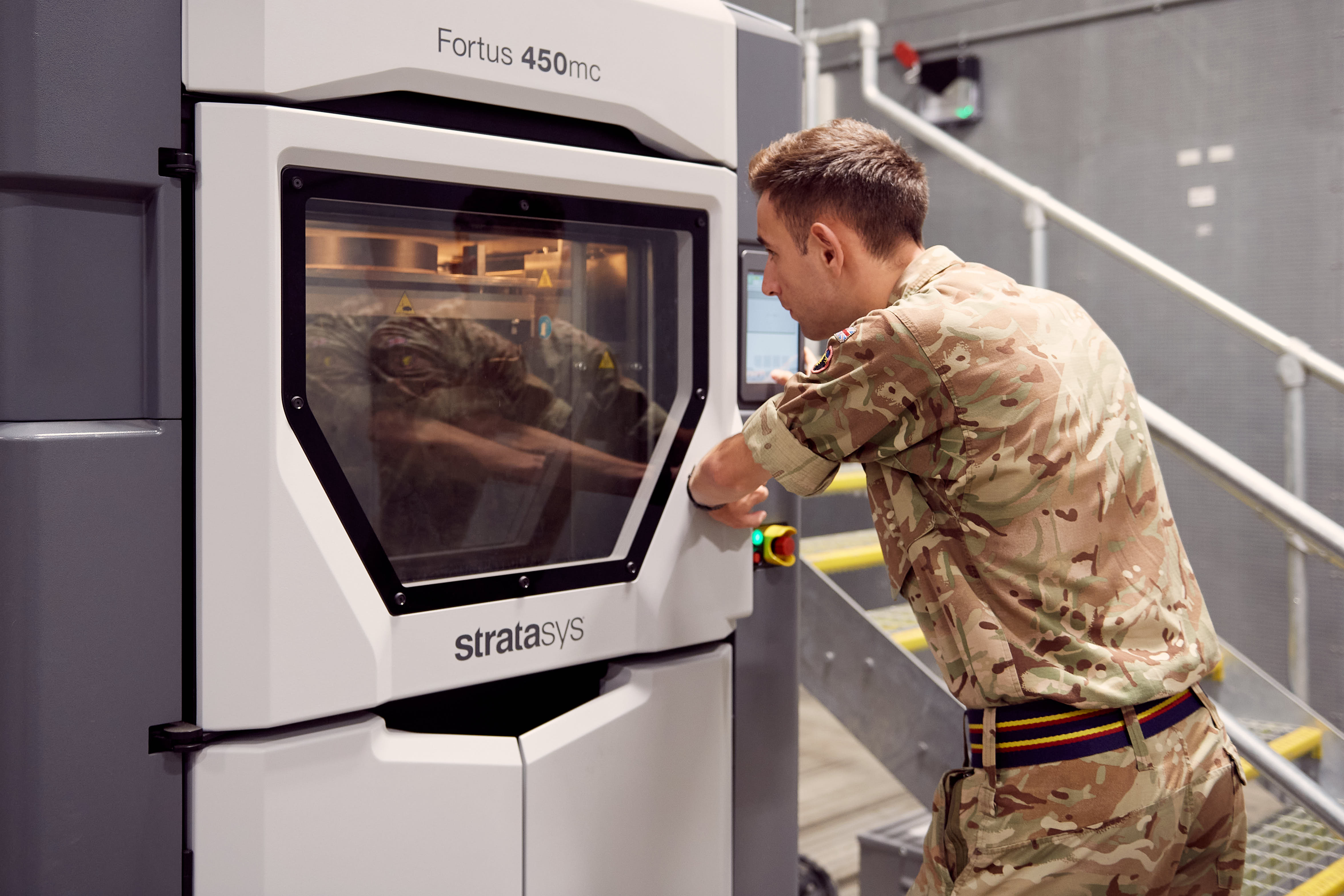 Which 3D printing materials are most often used in the defence sector?
The vast selection of additive manufacturing materials can cater for almost any defence application. Most commonly, the mechanical properties and high tensile strength of Nylon12CF make this thermoplastic ideal as a direct metal replacement. With high chemical resistance, Nylon can also be used in a wide range of demanding environments, while aerospace-grade ULTEM™ 9085* (manufactured by SABIC Innovative Plastics) is a good choice for its strength-to-weight ratio, strong flame/smoke/toxicity rating and traceability.
* 9085, 1010, and ULTEM™ are trademarks of SABIC, its affiliates or subsidiaries
Which applications is 3D printing used for in the defence sector?
The evolving nature of warfare in the digital age means that Tri-Tech 3D is commissioned to advise on countless defence projects. Some of the most common applications include: mock up prototypes, functional prototypes, virtual simulation aids, manufacturing tools, thermal spray and shot peening mask tools, CNC tooling and fixtures, topographical models, UAV air frames, remotely operated robotic vehicles, spares and obsolescence management, satellite antenna arrays, end use parts, camera housings, air ducts, wiring conduits and electrical housings.
What examples are there of Stratasys 3D printers used by the defence sector?
The value of additive manufacturing to the defence sector is illustrated by a recent case study concerning repairs made to a US Air Force AV-8B Harrier aircraft. After sustaining damage to its nose cone, a three-week delay was projected while the jet waited on an aircraft carrier for traditional repairs. Instead, engineers used the Stratasys F900 3D printer with a polycarbonate material able to withstand pressures of up to 4000 pounds/square inch – so repairing the nose cone in less than a week, at significantly reduced cost.