Affordable metal 3D printing system perfect for the beginner.
The MPRINT+ is part of One Click Metals 'BOLD SERIES' of 3D Printers. The MPRINT+, is an accessibility-focused metal system built for industrial prototyping and low-volume series production applications.
This system comes complete with a new 200W fiber laser and galvo scanner, providing higher productivity and long term reliability.
The new MPRINT+ 3D printer features a build volume measuring 150mm x 150mm x 150mm with an inert nitrogen gas outlet. As such, it's compatible with a number of metals such as stainless steel, aluminium and tool steel (coming soon) – all of which are provided by One Click Metal.
The machine offers an impressive focus diameter of 45 microns and a scan speed of up to 3000mm/s, producing fine, accurate, and high speed parts, when compared to similar systems.
Much of the system's accessibility comes from its easy-to-use supply cartridge system, where powdered feedstock is housed, reclaimed, and transferred in modular canisters. The MPRINT+ comes with Five cartridge slots, each of which can hold up to 8.5kg of material. This translates to a 250% oversupply relative to the build volume, resulting in fewer material changes and less downtime. Each of the cartridges are also fitted with a unique RFID tags, enabling users to check fill levels on the fly while ensuring incompatible metals are not accidentally mixed.

The cartridges integrate with the One Click Metals MPURE unpacking station to automate much of the powder handling workflow. MPURE de-powders the part, screens the powder and uses an ultrasonic sieve to filter the unused powder back into a reusable cartridge – all without the user having to contact any loose powder.
MPREP Software
The MPREP Software enables an optimally coordinated system chain. The pre-printing software is the low-cost solution for data preparation and makes expensive additional software unnecessary. With pre-settings and automatic calculations, data preparation is easier than ever.
The MPRINT+ and MPURE come as a package for just £99,960* enabling rapid access into metal AM technology at an affordable cost.
*Please note, this price does not include delivery, installation, training or materials.
View more info
MPRINT+
Process Chamber: 200W fiber laser
Build Size: 150 x 150 x 150mm
Type of Construction: WxHxD = 1.1 x 1.9 x 0.79m
Weight: 440kg
Powder Supply: 5 supply cartridges
Electrical Requirements: 230V/50-60HZ
Inert Gas: Nitrogen
MPURE
Unpacking Chamber: Glove box for bulk powder removal
Powder Recycling: Sieving unit for powder recycling with ultra sonic sieve. Sieved powder in supply cartridge for reuse. Oversize powder in junk cartridge for disposal
Type of Construction: WxHxD = 1.1 x 1.9 x 0.79m
Weight: 310kg
Currently there are no case studies assigned. You can view our full range of case studies here.
Leasing 3D Printers
Tri-Tech 3D provide direct rental contracts on our full range of 3D printers, which can include post processing equipment and extended warranty, making your investment into 3D printing both affordable and help plan your annual expenditure.
Funding in the most part, is provided by our sister company Stanford Marsh Finance (a division of the Stanford Marsh Group) or via our numerous strategic finance partners/brokers.
Rates are frequently checked to ensure competitiveness in the market place and you will find our terms highly attractive.  With options such as fixed term contracts, step rentals which make payments lower in the earlier years allowing time to grow the use from your new device.  Or deferred payment, enabling you to benefit from the technology ahead of when you start paying.
Why lease 3D Printers?..
Not only can leasing be financially beneficial to companies, but it can also give you the ability to remain ahead and current with technology. It also means your entry point to utilisation of a professional 3D printer is far more affordable than you may think – a professional 3D printer from as little as £299 per month, (including a wash system and 12-months support).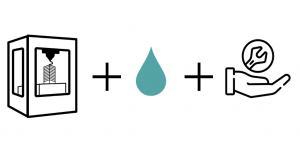 Furthermore, if like many companies today you are outsourcing 3D printing via a 3D Print Bureau, you are already spending an amount each month that when converted to a lease, could represents an in-house option at no extra cost (savings possibly).  Either talk to one of our team, or send us details of your average spend and we can help provide an ROI report.
In addition to our excellent rates, as an end user dealing directly with one vendor for finance, equipment and after sales care, your rental agreement will provide you with a future flexible upgrade path. We've enabled companies to acquire new technology prior to the completion of the minimum rental period, without the usual high termination figure charged by outside finance agencies.
All finance is subject to approval and none of the solutions detailed above are guaranteed to suit all scenarios. What we can promise however, is we will do our utmost to make the finance of your 3D Print solution as affordable and easy as possible.
If you are interested in further information, please contact us.
MPRINT+ Brochure Downloads
New to 3D
Printing or looking
for some support?
Get in touch
Trade in
and trade up...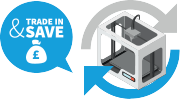 Your old 3D printer could be worth far more than you think!
Find out more
Why do companies buy a 3D Printer?
That's a good question and asking it today we think has changed significantly from had it been posed 15-years or so ago. Traditionally a 3D Printer provided solutions to Rapid Prototyping, a functional model to prove fit, form & function, or to convey a design intent to a client (better than a 2D drawing, or even rendered 3D imagery).
And when that was the end requirement, the focus was more on choosing a manufacture who built reliable devices that print right first time and in the professional sector, where repeatable accuracy could be achieved.
Why do people buy from Tri-Tech 3D?
We could say we are a well-established company, part of a larger group, with years of industry experience, six UK locations and our own finance company. All of which is true, but also sounds familiar to what the others may say and in some cases, a "so what".
Why we think our customers buy from Tri-Tech 3D and not just once, is we are a 'customer centric' business who treat people how we like to be dealt with ourselves. We want to know what you will get out of a system investment, we want to help drive that adoption and we want to see customers being successful.