Lightweight strong material
Aluminium features a good chemical resistance, tends to be lightweight, and features one of the best strength-to-weight ratios of any metal. Combined with silicon and magnesium, it's the choice of many in the aerospace and automotive industry for its ability to withstand harsh conditions.
Applications
Functional prototypes
Motorsports
Aerospace interior
Mechanical engineering
What are the qualities of Aluminium 3.2382?
High dynamic load capacity
Easily post processed
New to 3D
Printing or looking
for some support?
Get in touch
Trade in
and trade up...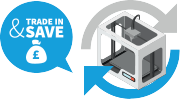 Your old 3D printer could be worth far more than you think!
Find out more