Leading provider of Stratasys 3D printing solutions
Tri-Tech 3D is the UK's leading expert in 3D printing. We offer the complete range of Stratasys Polyjet, FDM, SL & SAF 3D printing technologies, as well as resellers for One Click Metal systems.  Serving a variety of different industries, which include Automotive, Aerospace, Animation, general Manufacturing, and many more!  Tri-Tech 3D provides a comprehensive service from advice on initial specification and supply of 3D printing hardware to on-site installation, staff training, and on-going product support.
Founded in 2007 Tri-Tech 3D was acquired by the Stanford Marsh Group in January 2017.  This resulted in doubling our 3D business with SMG3D and become part of a broader group offering CAD software solutions, CAD training, and wide-format printing.  We've received prizes for our customer satisfaction and marketing innovation, as well as being involved in a number of projects for good causes.
We're more than just a company that sells 3D printers! Come and visit us to find out for yourself!
We're 3D Printing Experts

We are a team with varying backgrounds from engineers and technicians to artists and writers. It is this diversity that makes us the company we are, striving to continuously be the best in our field. We have earned the enviable reputation within the industry of being the 3D Printing Experts.

We're Award Winning

We were founded by our MD Paul Webber in 2007 and since then we've gone from a small team to tripling in size. We've hit many milestones along the way being awarded prizes for our customer satisfaction and innovative marketing. We support young engineers in our community, regularly sponsoring schools within Stoke-On-Trent in KMF's Young Engineer of the Year.

We're Comprehensive

We offer a complete package of services from initial specification and supply of 3D printing hardware, software, onsite 3D printer installation, staff training and full product support.

We're Knowledgeable

Tri-Tech 3D have a wealth of industry knowledge and technical expertise covering all the major rapid prototyping and rapid manufacturing technologies. Our roots as a true engineering company with bias on technical ability and support has helped us to become the most reliable and well-respected business partner for Stratasys and Objet 3D printers throughout the UK and Ireland.

We're Progressive

We as a company want to see the progression and adoption of 3D printing throughout all industry sectors. We want to ensure our customers have access to accurate and reliable information, helping their business to grow and develop utilising the very latest cutting edge technology. We endeavour to provide solutions that are exploratory, inspirational and educational.
New to 3D
Printing or looking
for some support?
Get in touch
Trade in
and trade up...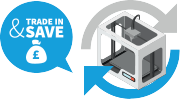 Your old 3D printer could be worth far more than you think!
Find out more