Schneider Electric Paves the Way to Industry 4.0 with FDM Technology
Schneider Electric is a global manufacturer and provider of energy and digital automation solutions for efficiency and sustainability. The company combines state-of-the-art energy technologies, real-time automation, software, and services into integrated solutions for homes, buildings, infrastructures, and data centres. Embracing the rise of Industry 4.0, Schneider Electric has embarked on a largescale implementation journey: the 'Smart Factory' project.
A prime example of this is Schneider Electric's plant in Puente la Reina, located in Navarra, Spain. A division of Schneider Electric España SA employing around 250 people, this facility specializes in the manufacture and assembly of electrical apparatuses and equipment, including light switches, sockets, and other related products of New Unica, Odace and Ovalis ranges.
Manuel Otamendi, Industrialization and Maintenance Manager – Global Supply Chain at Schneider Electric's Puente la Reina plant commented:
The inherent benefits of additive manufacturing for cost-effective, low volume production made it the ideal solution for our tooling needs. This is an area where we saw huge opportunity to optimize efficiencies given much of it was outsourced.
After testing several 3D printing technologies, the team decided to invest in Stratasys FDM Technology.
As a result, Schneider Electric approached Stratasys' local partner, to purchase a Stratasys F170 – a cost-effective, industrial-grade FDM 3D printer. The large range of engineering-grade thermoplastics available is ideal for both design and production applications. The 3D printer was put to work immediately and became a staple workhorse on the company's factory floor.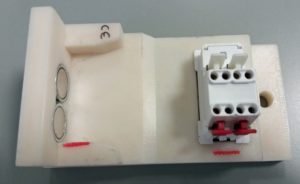 Schneider Electric relies on the F170 for a range of production applications, including assembly-line tools, jigs, fixtures, robot grippers, and other end-of-arm tools – all of which were previously outsourced to third parties and produced using expensive injection molding or CNC processes. The company uses Stratasys PLA, ABS and ASA materials to replace a wide array of previously aluminum tools. One such example is the production of grippers for robotic arms. Leveraging its F170 3D Printer, the team discovered a method to not only improve the performance of the robots but also secure major cost savings.
Otamendi explains:
It's not uncommon for aluminum parts of the mold to break when they collide, and when they do, be very expensive to replace. To circumvent this, we are now able to replace costly aluminum grippers for robotic arms with 3D printed alternatives using PLA.
The 3D printed tool offers the same mechanical performance properties as the traditional tool and helps protect more expensive aluminum parts when the molds collide.
The F170 also lets the team design and implement customized tooling on-demand. They have 3D printed various customized assembly line tools with cavity inserts to hold key items in place during production, ensuring optimal efficiency and precision.
Otamendi commented:
In the past year, using Stratasys FDM additive manufacturing we've achieved a saving of about €20,000 in the production of assembly-line tooling alone.
These significant operational efficiencies led to high-level acknowledgment from the wider Schneider Electric business. As part of the Smart Factory program, the plant in Puente la Reina won the internal European-wide Schneider Electric competition for the large quantities of 3D printed manufacturing tools produced, the outstanding time and cost savings achieved, and its contribution to accelerating the plant's Industry 4.0 transformation.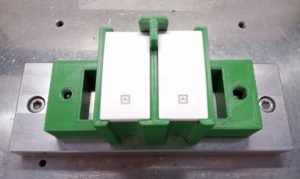 The team plans to continue leveraging their F170 to further optimize the tooling process but is also exploring other high-performance FDM materials for end-use parts. Otamendi sees increasing applications for the technology and believes it will play an important role in the plant's digital transformation goals.