Stratasys PolyJet and FDM 3D printers will be housed in a new dedicated Additive Manufacturing and Digital Centre on-campus
UK further-education institution Chesterfield College has made a significant investment in educating future design and manufacturing professionals with the purchase of six Stratasys 3D printers – a J850 Prime, J55 Prime and four F170 3D printers.
Technology Haul
Purchased through Stratasys' reseller Tri-Tech 3D, the technology haul will spearhead a new drive to leverage breakthrough innovations to better educate and inspire students, as well as local businesses, in the benefits of the technology in a dedicated on-campus additive manufacturing facility – a rarity in the UK for this level of non-University education.
Chesterfield College offers a wide variety of courses and operates across 19 different curriculum areas with 2,500 full time students in the 16-18 age group. The college offers a range of bespoke training programs designed for industry with over 2,000 apprentices and thousands of adults in various programs.
Learners from all curriculum areas will be able to access some of Stratasys' most advanced 3D printing technologies via the college's dedicated Additive Manufacturing and Product Design Centre, which is set to open this spring. The J850 Prime and J55 Prime 3D printers are multi-material PolyJet™-based systems featuring full-colour Pantone validation™ to create highly functional and tactile 3D printed parts, perfect for design projects. Stratasys' F170 3D printers offer fast and dependable FDM capabilities with engineering-grade materials that solve everyday production challenges.
Why Stratasys?
Gavin Varley, Director of Advanced Engineering, Chesterfield College said:
When I first saw the capabilities of the J850 Prime, I was blown away with the quality of the objects it could produce. Students studying fashion, construction, art or science can easily utilise the equipment as part of their projects from planning, design to manufacture. The intention is that we demonstrate that additive manufacturing can and will be part of every sector across all industries, so if we can showcase its capabilities as early as possible to a broad range of learners, they will develop skills in modern methods of manufacturing to prepare them for the future.
In utilising the technologies, enrolled students will have the opportunity to bring their personal projects to life in a modern way compared to traditional manufacturing methods such as milling and turning.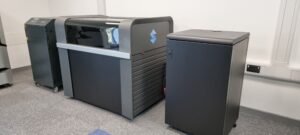 In addition to its educational purposes, the 3D printers will also be available to local businesses for commercial purposes as the Additive Manufacturing Product Design Centre will serve as a service bureau. Currently, these companies support learners by creating projects or problems for them to solve as part of their qualification. As such, learners will have the opportunity to 3D print a solution during assessments to incorporate into any projects.
Robert Pitts, Sales Manager at Tri-Tech 3D commented:
Chesterfield College is an institution that is looking to create new and exciting opportunities for its learners. This is a big-step in developing skills and processes that will benefit these learners for years to come and it is with excitement that we are able to play our part.
The installation and customer service from Tri-Tech 3D has been a major selling point for Chesterfield College. Gavin Varley further commented:
Based on our past experience, I have no doubt that the quality and service support will be there for us. This level of investment shows just how much we believe in the technology and is just the beginning of our journey to educate and demonstrate what we believe to be the future of manufacturing.
To find out more information about any of the systems mentioned above, please get in touch with our team.