Production Parts
Our Production series 3D printers are an ideal alternative process for creating production parts compared to traditional manufacturing processes. Stratasys production series 3D technology can cover a range of uses from pilot runs, market introductions, limited production runs and bridge manufacturing to full-scale end user part production.
Efficiency at your fingertips
3D print technology is capable of building the most durable, stable and repeatable parts in the industry! Working with engineering-grade thermoplastics and Advanced Formula Polymers, the production series is capable of creating products which would traditionally be created using moulding, casting or machining processes. One of the most advantageous aspects of this is that if any changes need to be made to a product during the 3D production process, they can easily be accommodated without any associated large costs, dropped throughput or loss of efficiency.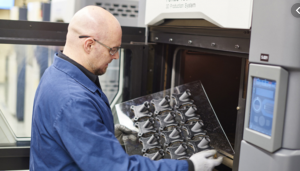 Our 3D print technology enables you to create production parts for function specific solutions and customisation in one smooth and flexible process. Design modifications are easily catered for by making simple adjustments in your CAD programme.
Stay competitive with customised products
We are also an excellent solution for customised end user parts. The production series is optimised for products which are continually changing order by order and provides the most cost friendly, and economically efficient way to create a customised product. With over 360,000 colours to choose from and the capability to combine different materials and material properties in any one product, 3D printing is now the smartest way to cater to the customisable product market.
For endless possibilities
The production parts created by 3D technology can be made with a range of standard and industrial grade thermoplastics as well as bio certified materials and aerospace certified materials. This means we can cater to a wide range of industries with the most common being the Medical, Aerospace and Automotive industries.
Production Printers
In the era of Industry 4.0, manufacturing with additive opens new doors. Shave days off production cycles. Remove complexity from final assembly. Produce lightweight, high-strength structures. See below printers best suited for production parts.
Production Materials
Ultem 9085 – High Heat Resistance, FST (Flame, Smoke and Toxicity) Certified (Ideal for Automotive, Aerospace and Mobility)
Ultem 1010 – High Heat Resistance, Chemical Resistance and Tensile Strength (as above)
Antero800NA – PEKK Based, High Heat Resistance, High Chemical Resistance, Low Outgassing (Ideal for Aerospace and Space)
Antero 840CN03 – PEKK Based, High heat and Chemical resistance, ESD Safe – Consistent electro static dissipative properties (Ideal for all applications relating to Electronics)
Nylon 12 CF – 30% chopped carbon fibre by weight. Strong, durable and lightweight. Ideal replacement for metal parts
ASA – Strong and durable material, UV Resistant so ideal for outdoor applications including signage (material will not degrade when exposed to prolonged UV light)