Tri-Tech 3D partner BOFA extraction systems. Why?
We have recently noticed a rise in enquiries for extraction systems, mainly from educational customers concerned about the effects of open chamber 3D printers around young children. We have also observed an increase in companies using 3D printers in confined spaces and/or running a farm of printers at 24/7 production levels.
Despite Tri-Tech 3D providing professional market leading FDM & PolyJet 3D printers, wherein the main would be considered safe systems themselves, we do recognise the importance to business owners and managers to ensure they provide the absolute safest environment for their staff and co-workers. The mindset to 'make safe even safer' where we can.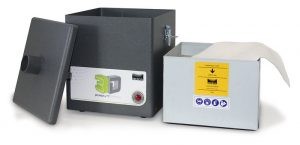 Added to which, since broadening our portfolio offering to other technologies that require dedicated working environments, temperature control, and extraction as standard from the get-go, Tri-Tech 3D has decided to partner BOFA to provide an end-to-end solution for customers who require such technology. Part of the Donaldson group of companies, BOFA are a world leader in fume extraction with a wealth of industry experience.
Using an effective fume extraction and filtration system to remove toxic fumes and particulates that are emitted from certain processes, will improve operators' breathing zone and reduce risk. BOFA offers a range of specialist systems designed specifically to help achieve this.
BOFA's 3D PrintPRO models provide effective fume extraction and filtration rates in compact units, with optional speed control, to maintain a cleaner print area and return ultra-clean, filtered air to operator breathing zones.
Please note: It is not mandatory to purchase a BOFA system with your 3D printer. We recommend it with certain systems. Further information will be outlined below.