3D print for Tooling
Our performance 3D production systems are the ideal solution for manufacturing tooling and come with many benefits which out perform traditional manufacturing processes. Stratasys additive manufacturing solutions enable you to create custom tooling in-house that have complex geometries, are hard standing, wear resistant, with low surface roughness and with dimensional accuracy within a hundredth of a millimetre. You can use the performance systems with a wide range of Stratasys materials including production and engineering grade thermoplastics such as Ultem 9085.
FDM processes for manufacturing mean you can tailor tool design to specific industries including Aerospace, High Performance Automotive, Marine and Sporting goods. With high temperature and pressure tolerances of up to 350 degrees Fahrenheit, our systems will enable you to cover the entire tooling family including layup tools, machine fixtures, trim tools and drill jigs. What's more, FDM allows you to address market demand for large tooling applications by joining or bonding segmented tooling.
We can produce a range of tooling applications using several of our technologies and/or materials which include:
Create prototypes using the same processes and materials as you would with the finalised product, giving you an advanced awareness of how your parts will interact with the physical environment. Products will contain fine details and smooth surfaces directly out of the build chamber, this means you are also able to reduce lengthy post processing procedures.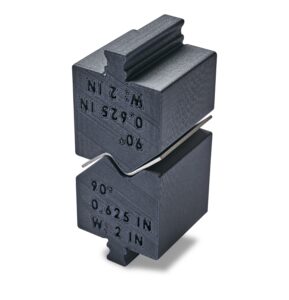 There are a multitude of benefits that FDM processes bring over traditional manufacturing processes with the most significant one being a reduction in time scale. While traditional manufacturing processes can take anywhere up to several weeks/months to produce tooling, our additive manufacturing solution means you can create custom tools in just a few days or even hours. The performance systems also enable a faster build time for large parts and allow custom speed and quality settings to be applied.
Stratasys 3D print solutions also enable you to save a significant amount in costs. Whereas traditional manufacturing processes can cost £40-45k per production run, FDM processes typically would cost less than 10% in comparison.
Want to explore 3D Printing for your tooling? Get in touch with our team, who will be able to offer you a comprehensive discussion on the above applications and processes.