Strong and tough material with just enough flex
FDM Nylon 12 is the same tough Nylon material popular in traditional manufacturing for its superb price-performance. Utilizing this tough material you are able to create advanced prototypes and custom tooling for applications that demand high-fatigue resistance with clean and hassle free FDM technology.
FDM Nylon 12 is suited for a variety of applications including:
Repetitive snap-fits
Friction fit inserts
Custom production tooling
Low-heat air intake components
Antenna covers
Prototypes for interior paneling
What are Nylon 12's qualities?
Create long lasting and tough parts.
Simple cleaning process that's free of powders.
Best Z-axis lamination and highest impact strength of any any FDM thermoplastic.
Excellent chemical resistance.
What Printer can it be used on?
This material can be used on the Fortus 450mc and Fortus 900mc 3D Printers
New to 3D
Printing or looking
for some support?
Get in touch
Trade in
and trade up...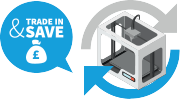 Your old 3D printer could be worth far more than you think!
Find out more