3D Printing for Jigs and Fixtures
Jigs and Fixtures are a crucial tool for manufacturers to maintain quality and production efficiency as they are used to position, hold, protect and organise components and subassemblies at all stages of the manufacturing process.
Although these tools may seem like an invisible part of the manufacturing process, they are of paramount importance in ensuring production runs smoothly. Therefore, it is essential that manufacturers can produce jigs and fixtures quickly, economically and on demand.
Here are some on the benefits you could reap by embracing Stratasys 3D Printing technology:
40-80% reduced lead times
70-95% cost reduction
an integrated design process which eliminates need for assembly
Improved performance and accuracy
Design freedom for improved function and ergonomics
A more streamlined single process
By replacing traditional manufacturing processes such as injection moulding, 3D printing significantly reduces production time as there is no lengthy waiting around for one part of the process to be completed before moving on to the next. There's also no post assembly required which means there's just one streamlined process to worry about. There's no need for complicated machine programming or dangerous machinery to operate either!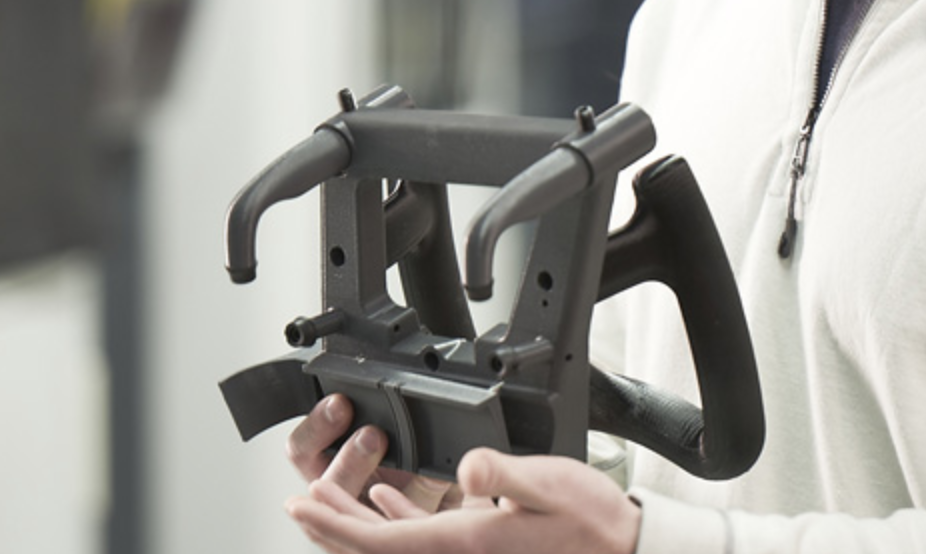 In addition, there's no need to outsource machine cut tools. With 3D printing, shapes and geometries can be determined, and parts built within as little as a single day. Our 3D technology will enable you to create designs that are too difficult for conventional cutting methods to replicate, such as hollow interiors, curves or complex shapes.
Materials
With the Stratasys range of materials you can move beyond using 3D printing for prototyping. Print the tools themselves, choosing from a range of composite materials perfectly suited to your application.
FDM TPU 92A – The elasticity of this material makes it a good option for conformal locating jigs and paint masks.
Nylon 12CF – This carbon fibre-reinforced thermoplastic offers superior strength and rigidity, making it a lightweight alternative to heavier metal tooling.
ASA – This thermoplastic is UV-resistant and comes in a broad range of colours and provides a superior finish when tooling aesthetics, surface finish or colour identification are important.

FDM Printers for Jigs & Fixtures
Whether your tooling needs are big or small, simple or complex, our printers and materials make the process easy, reliable & cost effective.
Materials suited for Jigs & Fixtures
ASA – Strong, Robust, Multiple Colours, UV Inhibitive (Outdoor use)
Nylon 6 – Strong, Tough, Durable
Nylon12 – As above but with high fatigue resistance (Flex)
Nylon12CF – Super strong, stiff and lightweight
Diran – Nylon6.6  material. 7% mineral filled by weight. Tough, high impact strength. Smooth lubricious surface offers low sliding resistance / low marring
TPU92A – Resilient Polyurethane elastomer offering flexibility and stretch with abrasion and tear resistance (Gaiters, plugs, grommets, cable / wire protection, grippers etc)
Ultem 1010 – High heat resistance and low CTE (Coefficient of Thermal expansion). Great for composite layup tooling