High-Strength, Heat Resistant FDM Thermoplastic
ULTEM 1010 is one of the strongest and most durable thermoplastics available. Its food-contact and biocompatibility certifications expand the use of additive manufacturing into applications like custom food-production tools and autoclave-sterilisable medical devices.
ULTEM 1010 is used a wide range of applications, including:
Custom tools.
Medical tools such as surgical guides.
Temperature resistant dies, patterns & fixtures for food production.
Out-of-cabin aerospace components and under-the-hood automotive components. including housings, ducts and semi-structural components.
What are the qualities of ULTEM 1010?
Highest Heat and Chemical resistance FDM Thermoplastic.
Bio-compatible and approved for food contact ( NSF 51 and ISO 10993/USP Class VI certifications.)
Custom tools for metal, plastic or even composite parts fabrication.
High Strength-to-weight ratio.
What Printers can it be used on?
ULTEM 1010 can be used on the Stratasys Fortus 900mc and Fortus 450mc.
New to 3D
Printing or looking
for some support?
Get in touch
Trade in
and trade up...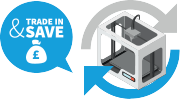 Your old 3D printer could be worth far more than you think!
Find out more