Mechanical Strength, UV Stable FDM Material
ASA makes a great choice for functional prototyping due to it's mechanical strength and UV stability. This thermoplastic is production-grade that works beautifully with FDM technology.
This material is used in a variety of applications, including:
Electrical Housing
Brackets
Sporting Goods
Automotive prototypes
What are ASA's Qualities?
Exceptional UV Stability
Uses soluble support material for easy, hands-free removal.
10 colour choices available including, red, ivory, black, yellow, green.
What Printers can it be used on?
ASA works with Fortus 450mc, 450mc, F770, 900mc 3D and the Stratasys F123 Series
New to 3D
Printing or looking
for some support?
Get in touch
Trade in
and trade up...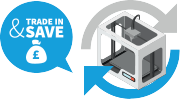 Your old 3D printer could be worth far more than you think!
Find out more