Carbon-fiber reinforced thermoplastic
Nylon 12 CF is an FDM, carbon-fibre reinforced thermoplastic which provides an ideal substitute to metal tooling  its unique stiffness and strength allows it to replace metal components such as fixturing applications. It's unique properties allow it's use within a variety of applications across a wide set of industries including, automotive, industrial manufacturing, recreational manufacturing, and aerospace.
Applications
Functional prototyping
UAV components and tooling
Transportation and Automotive – Bumpers, Fixtures and Brackets
Consumer – Performance and Sporting goods
General Manufacturing – fixtures, tooling and other manufacturing aids
What are Nylon 12 CF qualities?
High strength-to-weight ratio as well as high tensile strength
Carbon-fibre filled – Lightweight properties
Highest flexural strength of any FDM thermoplastic
Excellent structural characteristics
What printer can it be used on?
This material is compatible with the Fortus 380mc Carbon Fiber Edition, Fortus 450mc and Stratasys F900 3D Printers.
New to 3D
Printing or looking
for some support?
Get in touch
Trade in
and trade up...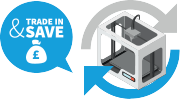 Your old 3D printer could be worth far more than you think!
Find out more