Elastomer 3D Printing Material
FDM TPU92A (Thermoplastic Polyurethane Elastomer) is the all new Elastomer material from Stratasys. Create accurate elastomer parts quickly and efficiently with the ease and reliability of professional FDM 3D printing. The durable elasticity of FDM TPU 92A material makes it a good choice for a wide variety of applications including flexible hoses, tubes, air ducts and vibration dampeners.
Superior Resilience
This all new elastomer in the FDM range is a resilient thermoplastic polyurethane combining flexibility and stretch with abrasion and tear resistance. 3D printing with FDM TPU 92A provides a superior alternative to less optimal TPU 3D printing technologies and eliminates expensive and time-consuming molding or casting methods to produce elastomer parts. The key difference between elastomers and rigid polymers is resilience! With TPU you are able to stretch or compress the material greatly and it won't lose its shape.
TPU 92A 3D printing material lends itself to many applications such as:
Seals
Gap fillers
Bands
Bumpers
Gaskets
Paint masks
+ more!
Available on the F370 as standard. Upgrade kits are available to be purchased for the F170 – just get in touch with our team to find out more!
New to 3D
Printing or looking
for some support?
Get in touch
Trade in
and trade up...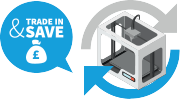 Your old 3D printer could be worth far more than you think!
Find out more