Strong impact resistant FDM material
Stratasys FDM Nylon 6 combines the strength and toughness of Nylon 6 with the dependability and durability of FDM technology for additive manufactured tools, prototypes and production parts.
Applications
Jigs and Fixtures – Create good tensile and mechanical strength parts
Functional parts – Test the performance of components for example, pedals.
Tooling – Eliminate the time and cost of tooling parts for Aircraft's and Industrial machinery.
What are the Qualities of Nylon 6?
This strong thermoplastic possesses excellent strength and stiffness while maintaining good impact resistance among the Nylon family of materials.
Engineered with nylon 6, a popular thermoplastic for manufacturing, this material works with the Fortus 900mc to produce durable parts with a clean finish and high break resistance.
It fills the niche between the more flexible FDM Nylon 12 and the high rigidity of FDM Nylon 12CF. This combination makes it a good choice for tooling that can handle the rigors of a production environment.
Where can Nylon 6 be used?
FDM Nylon 6 is ideal for product manufacturers and development engineers in automotive, aerospace, consumer goods and industrial manufacturing. This material works best combined with Stratasys Fortus 900mc to create prototypes that are both accurate and functional.
New to 3D
Printing or looking
for some support?
Get in touch
Trade in
and trade up...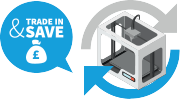 Your old 3D printer could be worth far more than you think!
Find out more