Thule embraces carbon fiber 3D Printing for their rigorous functional testing
Thule are a global leader in solutions that allow people to "bring with them what they care for most". Thule's spirit of innovation drew them to early 3D printing for visual models to help them with their concept validation. But despite the conceptual benefits, these models lacked the functionality necessary for design verification and Thule made the decision to upgrade for greater materials range and higher-output, giving them the ability to print functional prototypes.
From Concept Validation to Functional Testing
About the time Thule purchased the Stratasys Fortus 450mcTM, they learned of the Stratasys new material Early Visibility Program for FDM Nylon 12CFTM. Since introducing the printer to Thule, the demand for new product prototypes continued to grow.
Rob Humphries, from Thule commented:
We've made rotating parts, like our clamp mechanism that has teeth that fit into each other that wouldn't hold up without the capabilities of Nylon CF12. They'd break-off or bend completely over, without breaking
Another feature of the Nylon 12CF is its ability to withstand Thule's notorious rigorous functional testing. Humphries explained that Thule's testing is "brutal". Demand for time on the Fortus 450mc shot up once engineers saw the strength and stiffness capabilities of the carbon-fiber material.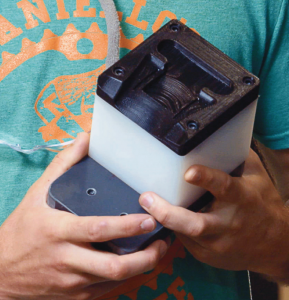 Nylon 12CF has performed so well for Thule as a company,  that they have began printing assembly fixtures and manufacturing aids for their Connecticut manufacturing plant, as well.
Humphries commented:
Nylon 12CF has been game-changing for us. Nothing that we could get affordably or quickly has the properties that Nylon 12CF does. It lets us more accurately model our production parts, test faster, and get to market faster
Engineers print three to four iterations in a week, with the ability to print a new version every night and improve it the next.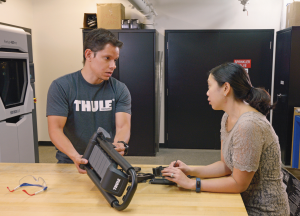 With less than a full year of the Fortus 450mc under its belt, and three years of 3D printing on the Fortus 360mc, Thule has already printed between 400- 500 designs. Humphries is already looking to the next step in Thule's business process and foresees 3D printing playing a large part.