Durable, Nylon-Based FDM Thermoplastic
Diran 410MF07 is a Nylon based material, delivering the strength and toughness required for manufacturing environments. However, unlike other FDM materials, Diran 410MF07 has a smooth, lubricated feel that results in very low surface friction; a valuable feature in cases where movement between parts is desired. In addition, the material's resistance to hydrocarbon chemicals means that it's ideal for harsh factory floor environments.
What are Diran 410MF07's Star Qualities?
Its slick surface offers low sliding resistance against other tools or parts
An ideal option for tooling applications, since the thermoplastic can withstand a tough shop environment
Applications
Tooling – Jigs, fixtures, and end of arm tooling
Prototyping – Smooth surface finishing for prototypes
Production Parts – Low-volume production and highly customised parts
What printer can it be used on?
This new material can be used on the F370.
View the data sheet for Diran 410MF07
New to 3D
Printing or looking
for some support?
Get in touch
Trade in
and trade up...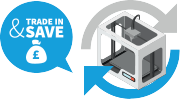 Your old 3D printer could be worth far more than you think!
Find out more