Strong FDM thermoplastic available in nine colours
ABSplus is an affordable yet durable thermoplastic perfect for engineers and designers to 3D Print out prototypes and test them thoroughly in an Office environment. This thermoplastic is mechanically strong and stable over time, with 80% of the strength of injection molded ABS, meaning that it is extremely suitable for functional applications as it has greater tensile and flexural strength than standard Stratasys ABS.
Applications
Concept Modelling
Functional Prototyping
Manufacturing Tooling
Marketing Models
Injection Moulding
What are the qualities of ABS plus material?
Mechanically strong and stable.
Wide range of colours available plus the option for custom colours!
Durable enough to perform like production parts.
Hands free soluble support removal.
New to 3D
Printing or looking
for some support?
Get in touch
Trade in
and trade up...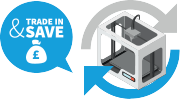 Your old 3D printer could be worth far more than you think!
Find out more