Very high heat and stiffness, ceramic.
Somos® PerFORM produces strong, stiff, high temperature-resistant composite parts that are ideal for rapid tooling and wind tunnel testing. With the lowest viscosity of any composite stereolithography material, parts made from Somos® PerFORM are faster to build, easier to clean.
They also possess superior sidewall quality, with unmatched feature detail. The material's high heat tolerance, outstanding print resolution and part stiffness make it ideal for high temperature testing, electrical casings and automotive housings.
Key Features
Excellent detail resolution
Faster, easier processing
Superior high heat tolerance
Expanded applications
New to 3D
Printing or looking
for some support?
Get in touch
Trade in
and trade up...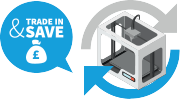 Your old 3D printer could be worth far more than you think!
Find out more