Very high heat and stiffness, ceramic.
Somos® PerFORM is a powerful material that can produce composite parts that are well-suited for rapid tooling and wind tunnel testing applications. This material has the lowest viscosity of any composite stereolithography material, allowing for fast building times and easy post-processing cleaning.
In addition, parts made with Somos® PerFORM exhibit superior sidewall quality and unmatched detail resolution. This material's exceptional high heat tolerance, stiffness, and detail resolution make it the perfect choice for a variety of applications, including high temperature testing, electrical casings, and automotive housings.
Key Features
Excellent detail resolution
Faster, easier processing
Superior high heat tolerance
Expanded applications
New to 3D
Printing or looking
for some support?
Get in touch
Trade in
and trade up...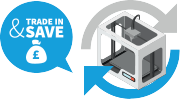 Your old 3D printer could be worth far more than you think!
Find out more