Ideal for concept models and functional prototypes
ABS-M30 is a convenient and affordable FDM production grade thermoplastic, which is ideal for testing out ideas and creations. Create realistic functional test parts that can also strong enough for end use.
Applications
Ideal for concept models.
Realistic Functional prototypes and test parts.
Jigs and Fixtures
Manufacturing tooling
What is ABS-M30's Qualities?
Particularly strong material.
High versatility- good for form, fit and function applications.
Combination of mechanical and aesthetic properties.
Variety of colours – including natural, white, black, dark grey, red and blue with an additional option to create custom colours.
What printer can it be used on?
The material works with the Fortus 380mc/450mc and the Fortus 900 mc 3D production systems.
New to 3D
Printing or looking
for some support?
Get in touch
Trade in
and trade up...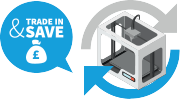 Your old 3D printer could be worth far more than you think!
Find out more