Read our introduction to metal 3D printing, from outlay and return on investment to material types and their benefits
While 3D printing is very much part of the manufacturing conversation in 2022, some of our clients are still surprised to discover the possibilities of 3D metal printing. Here's a quickfire guide, with your most common questions answered.
Can all 3D printers print metal?
No. While we've seen a recent influx of FDM printers offering metal options, these models cannot print metal parts directly but instead print metal with a wax or polymer. These will then need debinding and sintering, typically by a third-party company, which adds time, increases risk of failure and can result in parts that aren't fit for purpose.
Are there specialist 3D printers that can make metal parts?
Yes. Metal 3D printing is a highly specialist process and requires a custom printer model. The only directly printed metal systems use a laser to melt – or an electron beam – and are dedicated to metals only.
At Tri-Tech 3D, we offer two technologies for 3D metal printing. Developed by a team of German AM innovators based near Stuttgart, the One Click Metal MPRINT+ is a low-cost, laser-based direct metal 3D printer. It's a great choice, potentially taking your project from CAD design to final part in the same day, without any compromise in strength relative to conventional metals.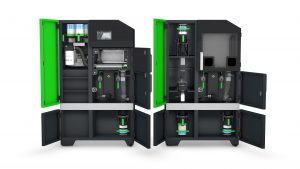 Meanwhile, our XJet 3D printer models like the Carmel 1400M and 1400C offer a two-stage process comprising printer and sintering. This technology offers very fine detail, small design features, with uncompromised features, due to water washable support.
What kind of metals can be 3D printed?
The open-ended flexibility of additive manufacturing extends to 3D metal printing. Working with clients across the gamut of UK industry, we've often seen metal parts 3D printed using stainless steel (316L, 17-4PH), various tool steels, aluminium, Inconels and many more in development.
But one of the key benefits of 3D metal printing is the lack of limitations. As a general rule, any metal type that can be conventionally welded can also be 3D printed. Talk to the Tri-Tech 3D team about your project and we'll discuss the feasibility of different materials.
Can you 3D print aluminium?
Yes, we can recommend an aluminium 3D printer. However, at Tri-Tech 3D, we work with a limited selection of the many available grades of aluminium (data sheets can be supplied on enquiry).
It should be noted, too, that 3D metal printing aluminium requires some additional safety understanding due to the reactive nature (so ATEX-approved vacuum systems are needed, for example).
What metals cannot be 3D printed?
Very little is technically impossible in AM – but there's no doubt that some metals are more challenging for 3D metal printing than others. These include copper and brass, due to the laser-based high reflectivity and also because of special copper-related requirements (very high density, for one).
Often, the limitations come down to what is practical and affordable for your business. Custom metals – like a space-grade aluminium, for instance – can be difficult to produce and are not always viable in the long term. Similarly, when 3D printing gold, platinum and noble metals, material cost is very high – not to mention safety and security.
How strong is 3D metal printing?
The strength of 3D metal printed parts is defined to various standards, so we supply our clients with data sheets that clearly set out the figures compared to conventional manufacturing methods. Every client has different requirements – density, elongation, hardness, ductility and so on – so we factor these in when we supply the information.
Is metal 3D printing worth it?
As with all things AM, the viability of 3D metal printing versus conventional manufacturing all comes down to business-specific factors including the application, the production run, the size of parts and much more. However, there's no doubting the potential return on investment that 3D metal printing can bring across the board.
When you stop outsourcing and bring 3D metal printing in-house – for as little as £3k/month – the benefits start to announce themselves. 3D metal printing frees up time on highly skilled CNC machines, in the hands of design teams to test projects. 3D printer technology could sharpen your designs, too, allowing you to build ten parts – but all slightly differently – in order to gain knowledge, cut development time and make you more flexible and competitive.
With 3D metal printing, you could create parts that are lighter, unlocking a host of cost and efficiency savings. You could optimise your inventory, too, identifying long lead times on spares, reducing stock items – or even eliminating stock entirely with a digital catalogue.
Of course, 'affordable' is a fluid term. If a million-pound system resolves a two-million-pound problem, it's worth it. And at Tri-Tech 3D, our experts will look hard at your business in order to give you the best guidance towards the healthiest possible bottom line.
3D metal printing solutions from Tri-Tech 3D
As one of the UK's most respected names in additive manufacturing, Tri-Tech 3D has guided businesses in every sector to full 3D printing capacity. From advice on your new 3D metal printer to materials, software, training and installation, we're alongside you all the way.
For 3D printers, software, hardware and support in the UK, call Tri-Tech 3D on 01782 814551 or email info@tritech3d.co.uk