Tough and high accuracy material made for medical applications
A high-performance, high modulus material boasting excellent flexural and tensile physical properties. Stiffness and toughness make this material ideal for use in a wide variety of impact-resistant medical devices.
Applications
Reusable medical components
Orthotics
Respirator components
What are 402's Qualities?
Excellent flexural and tensile strength
High stiffness
Medical-grade certified resin
Biocompatible (ISO 10993-5 and ISO 10993-10 certified)
Excellent print accuracy
Parts can function at body temperature
Outstanding surface finish
What printer can it be used on?
This material can be used on the Stratasys Origin 1 P3.
New to 3D
Printing or looking
for some support?
Get in touch
Trade in
and trade up...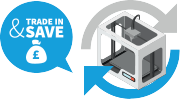 Your old 3D printer could be worth far more than you think!
Find out more