Transparent PolyJet Material
VeroUltraClear simulates acrylic, achieving 95% light transmission of that material, and is useful for prototypes of glass, clear polymers, or transparent packaging.
This transparent polyjet material improves upon the past performance of VeroClear with a higher level of clarity, transparency, and a lower yellow index.
Typical applications include concept models and prototypes for eyewear, lighting components, and the replication of glass and clear polymers. Other uses include modeling clear tubes and housings for pumps and gearboxes to view fluid flow and internal mechanisms.
Performance Properties

New to 3D
Printing or looking
for some support?
Get in touch
Trade in
and trade up...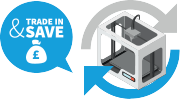 Your old 3D printer could be worth far more than you think!
Find out more