Simulated Polypropylene
Simulated Polypropylene enables you to 3D print precision prototypes that not only look but behave like Polypropylene. You are able to rapidly create models to test form, fit and function for snap-fit assemblies, living hinges and durable housings and packaging.
Stratasys offers two Polyjet Photopolymer materials that simulate the appearance and functionality of Polyprop:
Rigur (RGD450) – An office-friendly material engineered to deliver impressive and dimensionally stable prototypes. Rigur comes in a bright white colour and boasts a beautiful surface finish.
Durus (RGD430) – This material is the original Simulated Polypropylene that has fantastic impact resilience and an elongation at break of 44%. 
What printer can it be used on?
This material works on all Connex1 & 3 systems as well as the Objet 30 Pro, Objet 30 Prime and Eden 260VS.
New to 3D
Printing or looking
for some support?
Get in touch
Trade in
and trade up...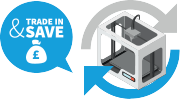 Your old 3D printer could be worth far more than you think!
Find out more