Lightweight & Reliable
New for 2021, ABS-CF10 is an ABS-based material with 10% chopped carbon fiber, making it 15% stronger and 50% stiffer than standard ABS. It was specifically formulated for use on the Stratasys F170, F270 & F370 printers for the production of jigs, fixtures, manufacturing aids, and more.
ABS-CF10 has superior stiffness, high accuracy up to 0.2mm, and soluble support. This ready-to-use carbon fiber material is strong, stiff, and lightweight, removing barriers to functional, high-performing parts that can be implemented in demanding real-world conditions.
Applications
End Effectors
Ergonomic Aids
Alignment Fixtures
What are ABS-CF10's Qualities?
Lightweight
Excellent geometric tolerancing over large parts
Can be used with additional fixturing needs/requirements such as metal parts
What printer can it be used on?
This high strength material can be used on the Stratasys F170, F270 & F370
New to 3D
Printing or looking
for some support?
Get in touch
Trade in
and trade up...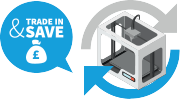 Your old 3D printer could be worth far more than you think!
Find out more