Bright white dental modeling resin
VeroDent PureWhite is a bright white photopolymer that can be used alone or as the foundation for creating realistic, full-colour models when combined with the Vero Vivid Color Family. With its stiffness and ability to capture high-quality, accurate details, this resin is primarily intended for printing restorative and orthodontic models.
Its bright white colour makes it an ideal choice for creating dental appliances that require a natural-looking appearance, while its compatibility with the Vero Vivid Color Family enables the creation of models with a wide range of colours and shades. As a result, VeroDent PureWhite offers dental professionals a versatile and reliable solution for producing high-quality dental models with exceptional accuracy and realism.
Key Features
Excellent detail visualisation
Flexural strength: 75-110 MPa
Colour: White
New to 3D
Printing or looking
for some support?
Get in touch
Trade in
and trade up...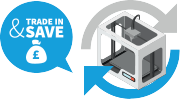 Your old 3D printer could be worth far more than you think!
Find out more