PETG
PETG is the material of choice for printing high-performance parts that demand excellent durability along with temperature, moisture, and chemical resistance. Engineers and designers use PETG to produce durable prints with speed and agility that can withstand industrial applications including functional prototypes, jigs and fixtures, and end-use parts.
PETG is suited for a variety of applications including:
Functional prototyping
Custom machine parts
Manufacturing tooling aids
Product testing tools
What are PETG's qualities?
Chemical resistance to acidic and alkali compounds
Moisture resistant
Prints with water-soluble PVA support
Excellent mechanical properties
Available in 3 colours: Red, Black and White
What Printer can it be used on?
This material can be used on the MakerBot METHOD and Method X
New to 3D
Printing or looking
for some support?
Get in touch
Trade in
and trade up...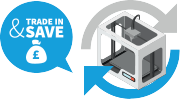 Your old 3D printer could be worth far more than you think!
Find out more