Vero Flex
VeroFlex is a Stratasys PolyJet photopolymer created for rapid prototyping eyewear. VeroFlex offers superior flexibility and can simulate the look, feel and function of eyewear with full-part realism to provide improved performance testing.
Applications
Eyewear Prototyping
Performance testing
What are Vero Flex's Qualities?
Vero Flex is Strong, robust and flexible.
Shorten product development to eight week.
Prototypes can better withstand drop, lens-mounting and wearability tests.
Wide range of colours, textures and materials – including Cyan, Magenta, Yellow, White, Black and clear and can also be printed as opaque or transparent.
What Printer can it be used on?
Improve your eyewear sales with VeroFlex on your J850 and J826 3D Printer.
New to 3D
Printing or looking
for some support?
Get in touch
Trade in
and trade up...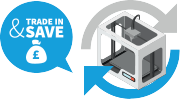 Your old 3D printer could be worth far more than you think!
Find out more