Engineering grade polymer
Stratasys High Yield PA11 delivers production-grade plastic parts for high-volume demands — driving new areas of business growth. This material enables a high nesting density while maintaining high part consistency to deliver production yields.
In additive manufacturing, PA12 is the go-to material for prototyping. But in traditional high-volume production of end-use parts, PA11 is much more widely used due to its higher ductility, higher impact and higher fatigue resistance as well as its suitability for a wider range of industry applications. PA11 is also ecofriendly and 100 percent bio-based from sustainable castor oil.
Applications
Strong functional parts
Impact-resistant parts
Smooth end use parts
Athletic mouth gear
What are PA11's Qualities?
Eco friendly
High ductility
High fatigue resistance
What printer can it be used on?
This material can be used on the Stratasys H350.
New to 3D
Printing or looking
for some support?
Get in touch
Trade in
and trade up...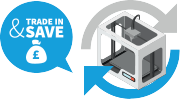 Your old 3D printer could be worth far more than you think!
Find out more