Versatile, easy to use, exceptional clarity.
Somos® WaterClear Ultra 10122 is a low-viscosity material that produces accurate, functional parts that simulate an acrylic appearance, with minimised finishing requirements. The material is ideal for applications that require optical clarity, like fluid flow analysis, master patterns and concept and functional models.
Meanwhile, where lenses need to be thicker, this material provides refractive values similar to engineered plastics for functional testing in optical light transmission work. You'll clearly see the difference this material makes to your next design project.
Key Features
Extraordinary optical clarity
Superior moisture resistance
Easy to use and finish
Colourless
New to 3D
Printing or looking
for some support?
Get in touch
Trade in
and trade up...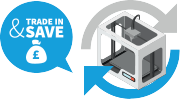 Your old 3D printer could be worth far more than you think!
Find out more