Ideal material for industrial environments
In comparison to both PLA and Tough PLA, UltiMaker PETG emerges as the epitome of versatility, unlocking a vast spectrum of technical applications. While it retains the ease of printing akin to PLA, it bestows upon you the industrial-grade properties crucial for demanding projects.
UltiMaker PETG is designed to strike the perfect equilibrium between various properties, making it an ideal choice for UltiMaker users operating in industrial settings. Its well-rounded attributes encompass visual aesthetics, functional integrity, and mechanical robustness, ensuring that your 3D prints can endure the rigors of real-world applications.
Moreover, the integration of NFC detection and dedicated print profiles makes UltiMaker PETG seamlessly harmonise with the UltiMaker platform.
Key Features
Wear resistant
Chemical resistant
Tough
Temperature resistant
Available in 14 different colours
Key Applications include:
Functional prototypes
Manufacturing aids
New to 3D
Printing or looking
for some support?
Get in touch
Trade in
and trade up...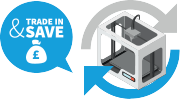 Your old 3D printer could be worth far more than you think!
Find out more