High Abrasion-Resistance for Industrial Manufacturing Applications
MakerBot Speciality Nylon is an engineering-grade material that is optimized for high abrasion resistance due to its excellent flexural, tensile, and impact strength, not to mention a heat resistance of up to 180°C.
Applications
Jigs and Fixtures
Metal Replacement Parts
Manufacturing Aids
Functional Prototypes e.g seatbelt buckles, Gaskets, Manifolds etc
What are the qualities of MakerBots specialty Nylon?
High heat deflection
Superior surface finish and aesthetic appearance
Strong, Durable and Dimensionally Stable parts
What printer can it be used on?
This material can only be used on the Method/X Carbon Fiber edition, or if you already own a MakerBot Method or Method X you can upgrade your printer with a new extruder. Just get in touch with the team!
New to 3D
Printing or looking
for some support?
Get in touch
Trade in
and trade up...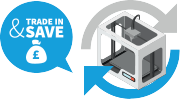 Your old 3D printer could be worth far more than you think!
Find out more