Very high heat and stiffness, ceramic, developed for PIV.
Somos® PerFORM Reflect utilises patented new technology that allows for reducing and even eliminating much of the finishing work required with traditional materials. Somos® PerFORM Reflect produces strong, stiff, high-temperature resistant composite parts that are ideal for wind tunnel testing.
Extensive tests show that Somos® PerFORM Reflect reduces post-processing by more than 30% as it eliminates the need for additional PIV coatings. This translates into faster data collection, decreasing overall lead time per design iteration and allowing customers to conduct iterations faster.
Key Features
Ready to use material for PIV wind tunnel testing
>30% reduction in post processing time
Excellent detail resolution
Superior high heat properties
New to 3D
Printing or looking
for some support?
Get in touch
Trade in
and trade up...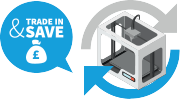 Your old 3D printer could be worth far more than you think!
Find out more