High Temperature Material
Our Stratasys high-temperature heat resistant material stimulates the performance of standard plastics and is ideal for thermal testing of static parts. It has a heat deflection temperature of 63-67 C, and thermal post-treatment in a programmable oven can increase this up to 80 C.
Our high-temperature material lends itself to many applications such as:
Models in transit
Hot air and hot water testing
Heat resistant jigs and fixtures
Exhibition models under strong lighting conditions
Form, fit and thermal functional testing of static parts
What are the High-Temperature Qualities?
Combines heat resistance with exceptional dimensional stability
Can combine it with Rubber-like materials producing Shore A values, gray shades, and rigid functional materials with higher temperature resistance.
Simulate the thermal performance of engineering plastics
What Printer can it be used on?
This material can be used on Objet30 Prime, Objet 30 Pro, Eden 260VS, Objet 260/500 Connex 1 & Objet 260/350/500 Connex 3.
New to 3D
Printing or looking
for some support?
Get in touch
Trade in
and trade up...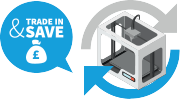 Your old 3D printer could be worth far more than you think!
Find out more