High strength, heat & chemical resistant thermoplastic
PPSF / PPSU (polyphenylsulfone) material has the greatest heat and chemical resistance of all Stratasys materials – ideal for aerospace, automotive, and medical applications.
PPSF parts manufactured on Stratasys 3D Printers are not only mechanically superior but also dimensionally accurate, to better predict end-product performance. Users can also sterilize PPSF via steam autoclave, EtO sterilization, plasma sterilization, chemical sterilization, and radiation.
PPSF/PPSU is suited for a variety of applications including:
Functional prototyping
Concept modeling
Manufacturing tooling aids
Low-volume injection molding
What are PPSF/PPSU's qualities?
High temperature and chemical resistance
Strong mechanical performance
What Printer can it be used on?
This material can be used on the Fortus 900.
New to 3D
Printing or looking
for some support?
Get in touch
Trade in
and trade up...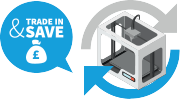 Your old 3D printer could be worth far more than you think!
Find out more