Rigid & Glossy for quick and easy office-friendly prototyping
MakerBot Sketch PLA is a great material for your early concept models because it is easy to use, office-friendly, and works great with breakaway supports which print faster and can be removed faster than dissolvable supports. PLA is a corn-based plastic and is considered biodegradable under industrial processes.
This PLA Filament is the best and most consistent filament designed for the MakerBot Sketch Classroom 3D printers. Composed of the purest grade resin available on the market and comprehensively quality tested MakerBot PLA filament reduces downtime and creates the highest quality prints.
Colours available
Gray
Black
Blue
Green
Orange
Red
White
Yellow
New to 3D
Printing or looking
for some support?
Get in touch
Trade in
and trade up...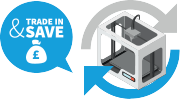 Your old 3D printer could be worth far more than you think!
Find out more