High heat and toughness, thermoplastic-like performance.
By using Somos® Taurus to print your parts, you get the added value of excellent surface quality and isotropy, enabling reduced job times for highly detailed parts with more uniform performance. Somos® Taurus brings the combination of thermal and mechanical performance that until now has only been achieved using thermoplastic 3D printing techniques such as FDM and SLS. Parts printed with this material are easy to clean and finish.
The higher heat deflection temperature of this material increases the number of applications for the part producer and user. The darker colour of Somos® Taurus also gives an added richness to your parts to minimise part finishing and painting, making it a great choice for the automotive and aerospace industries.
Key Features
Superior strength and durability
Wide range of applications
Excellent surface and large part accuracy
Heat tolerance up to 90 degrees celsius
Thermoplastic-like performance, look and feel
New to 3D
Printing or looking
for some support?
Get in touch
Trade in
and trade up...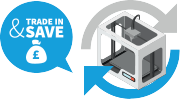 Your old 3D printer could be worth far more than you think!
Find out more