Functional prototyping material
UltiMaker CPE stands out as the material of choice for crafting robust and dimensionally stable functional prototypes. This filament exhibits remarkable resistance to chemicals, exceptional strength, and excellent interlayer adhesion. What's more, it's an ideal option for environmentally-sensitive applications and bio-contact scenarios, thanks to its low levels of ultrafine particles (UFPs) and volatile organic compounds (VOCs).
With a tensile stress at yield measuring an impressive 50 MPa and a tensile stress at break reaching 28 MPa, UltiMaker CPE establishes itself as a powerhouse in terms of strength. It has been meticulously engineered to surpass the strength of ABS by several folds, granting you the capability to create intricate shapes while preserving impeccable dimensional stability.
Key Features
Chemical resistant
Dimensionally stable
Strong
Low odour and low ultrafine particle emissions and gases
Available in 9 different colours
Key Applications include:
Functional prototypes
Mechanical parts
Short run manufacturing
New to 3D
Printing or looking
for some support?
Get in touch
Trade in
and trade up...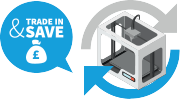 Your old 3D printer could be worth far more than you think!
Find out more