Reliable, no-hassle 3D Printing material
UltiMaker PLA filament stands out as an exceptionally user-friendly 3D printing material. Its inherent ease of use, along with its commendable reliability, ensures a seamless printing experience for both beginners and seasoned enthusiasts. Beyond its user-friendly attributes, Ultimaker PLA boasts impressive surface quality, consistently yielding prints of outstanding visual appeal and precision.
Moreover, this filament is not only high-performing but also environmentally conscious. Derived from renewable sources, UltiMaker PLA contributes to sustainability efforts by being inherently biodegradable, reducing its ecological footprint and making it an eco-friendly choice for 3D printing enthusiasts.
Key Features
Low melting point
Quality surface finish
Perfect for educational printing due to low ultrafine particle emissions
Available in 11 different colours
Key Applications include:
Detailed prototypes
Simple manufacturing jigs
Mold inserts
Investment casting
New to 3D
Printing or looking
for some support?
Get in touch
Trade in
and trade up...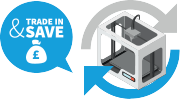 Your old 3D printer could be worth far more than you think!
Find out more