Multipurpose material saving time and resources
With similar properties and processing to Somos® WaterShed XC 11122, Somos WaterShed Black is a stereolithography resin that produces rigid, tough parts in a true black colour, with no need for painting.
Somos® WaterShed Black is an innovative stereolithography resin that offers a new, black-colored option in the market. Thanks to its advanced formulation, Somos® WaterShed Black boasts processing times that are up to 50% faster than other materials, thereby saving time and resources.
Additionally, this material requires minimal finishing work and ensures more consistent processing over time. Compared to other available options, WaterShed Black produces a truer black colour straight off the machine. This material also yields a smooth surface finish and offers superior moisture and chemical resistance.
Key Features
Truer black colour off the machine
Smooth surface finish
Superior moisture and chemical resistance
Ease of use and fast processing with minimal finishing, more consistent processing over time
New to 3D
Printing or looking
for some support?
Get in touch
Trade in
and trade up...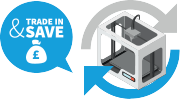 Your old 3D printer could be worth far more than you think!
Find out more