Strong and durable polymer
3172 is a very strong and durable photopolymer with mechanical attributes similar to polypropylene. It displays fantastic elongation, impact strength, and compression strength. Parts manufactured with 3172 can be machined, tapped, or polished.
3172 resin allows you to produce functional parts that require high stiffness with a good surface finish and high impact resistance. Attributes are similar to Polypropylene (PP). This material is resistant to impact stress and is ideal for tooling applications, manufacturing aids, housings, and consumer applications such as insoles.
Applications
Manufacturing aids
Tooling applications
Housings and covers
Insoles
What are 3172's Qualities?
• Superior impact strength
Good surface finish
Parts can be machined, tapped, or polished.
Tested in QUV exterior weathering conditions (ASTM G-154) for 800 hours with less than a 15% change in tensile and impact properties.
What printer can it be used on?
This material can be used on the Stratasys Origin 1 P3.
New to 3D
Printing or looking
for some support?
Get in touch
Trade in
and trade up...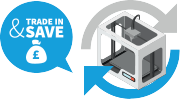 Your old 3D printer could be worth far more than you think!
Find out more