High performance & high modulus material.
3955™ is a halogen-free, high-performance, high modulus material with excellent flexural and tensile physical properties. The material passes UL94 flammability V-0 and FST (AirBus AITM2-0002, AITM2-0007, AITM3-0005), and its high HDT allows it to withstand harsh environments with negligible deformation.
Parts printed with 3955 showcase an outstanding surface finish making it ideal for connector and interior parts for aerospace and rail. 3955™ has been tested in QUV exterior weathering conditions (ASTM G-154 @ Cycle 1) for 1600 hours with less than a 15% change in Flexural properties.
Applications
HVAC components for aircraft
Clips and plugs for control systems/cabinets
Connectors, electronic housings
What are 3955's Qualities?
Extremely high HDT delivers negligible 

deformation in harsh environments

​

High performance, high modulus with excellent 

flexural and tensile physical properties

​

Passes flammability 2×10 second Vertical Burn 

and FST (

AITM2-0002, AITM2-0007, 

AITM3-0005)

Halogen Free
What printer can it be used on?
This high-strength material can be used on the Stratasys Origin 1 P3.
New to 3D
Printing or looking
for some support?
Get in touch
Trade in
and trade up...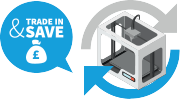 Your old 3D printer could be worth far more than you think!
Find out more