Bio-compatible, medical grade material
This medical-grade material is a very strong and durable photopolymer with mechanical attributes similar to polypropylene with fantastic elongation, impact strength, and compression strength.
MED412 is a lightweight yet sturdy material that comes with inherent insulating properties, designed to withstand impact, moisture, and vibration. These highly desirable features and attributes are ideal for devices that might need to be sterilized or disinfected and are shipped around the world for use in home care and healthcare settings.
Applications
Orthotics guides
Braces
Respirators
Athletic mouth gear
What are MED412's Qualities?
Medical-grade certified resin
Biocompatible (ISO 10993-5 and ISO 10993-10 certified)
Superb elongation
Tough
Good impact strength
Great surface finish, excellent machinability
What printer can it be used on?
This material can be used on the Stratasys Origin 1 P3.
New to 3D
Printing or looking
for some support?
Get in touch
Trade in
and trade up...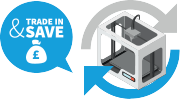 Your old 3D printer could be worth far more than you think!
Find out more