ABSi is a clear choice for prototypes that mimic the final product
ABSi material allows you to 3D Print translucent prototypes in amber, red and natural colour. This material empowers FDM systems and builds components that allow light to pass through, which are useful in automotive designs. ABSi is commonly used in the Automotive and Aerospace industries.
ABSi is used in a wide range of applications, including:
Fluid movement testing
Functional Prototyping
Medical-device manufacturing
Concept modeling
Direct digital manufacturing
Monitoring material flow
Light transmission
What are ABSi's qualities ?
Translucent nature – able to monitoring material flow and light transmission
Superior Strength
Visually Unique and Durable
Dimensionally Accurate
What printer can it be used on ?
This material can be used on the Fortus 3D production systems.
New to 3D
Printing or looking
for some support?
Get in touch
Trade in
and trade up...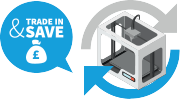 Your old 3D printer could be worth far more than you think!
Find out more