Vivid translucent colour materials.
The VeroVivid family adds striking colour to all parts and prototypes. The ability to simulate over 500,000 colours and unlimited tints provides unique full-colour capabilities to prototypes of all kinds.
When combined as digital materials with other Stratasys PolyJet materials like VeroWhite, VeroUltraClear, or the Agilus30 family the possibilities become endless. Create colour in multiple shore values, simulating finishes, creating realistic packaging, or life like medical parts.
Behaviour and Use

New to 3D
Printing or looking
for some support?
Get in touch
Trade in
and trade up...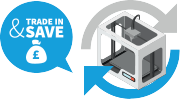 Your old 3D printer could be worth far more than you think!
Find out more