Resilience and Elongation
Durus is the original simulated polypropylene material and exhibits great impact resilience and an elongation at break of 44%.
Explore What's Possible
PolyJet technology offers a wide range of material properties, from rigid to flexible, opaque to transparent, and combinations of two or more base resins, providing limitless design opportunities.
Behaviour and Use

New to 3D
Printing or looking
for some support?
Get in touch
Trade in
and trade up...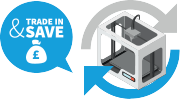 Your old 3D printer could be worth far more than you think!
Find out more