Accurate, durable, strong and RF transparent polycarbonate material
PC (polycarbonate) is widely used in automotive, aerospace, medical and many other applications. PC offers accuracy, durability and stability, creating strong parts that withstand functional testing.
PC has superior mechanical properties to ABS and a number of other thermoplastics. When combined with a Stratasys 3D Printer, PC gives you strong parts for conceptual modeling, functional prototyping, manufacturing tools, and production parts.
PC (polycarbonate) is suited for a variety of applications including:
Functional testing
Manufacturing tooling
Production parts
What are PC's qualities?
High tensile and flexural strength
Tough & heat resistant
What Printer can it be used on?
This material can be used on the Fortus 380/450mc and the Fortus 900.
New to 3D
Printing or looking
for some support?
Get in touch
Trade in
and trade up...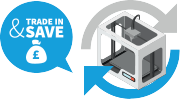 Your old 3D printer could be worth far more than you think!
Find out more