Technical PLA with ABS toughness
UltiMaker Tough PLA is a cutting-edge technical filament crafted from polylactic acid (PLA) that boasts a toughness reminiscent of ABS, yet retains the user-friendly attributes that make PLA so popular. This material redefines the boundaries of 3D printing, particularly when it comes to fabricating functional prototypes and robust tooling on a larger scale. The best part? You can embrace the advantages of Tough PLA without any concerns about delamination or warping, ensuring a seamless and reliable printing experience, just like regular PLA.
What truly sets Tough PLA apart is its exceptional impact strength, bridging the gap between traditional PLA and ABS. This enhanced durability opens up a world of possibilities, enabling you to deploy your 3D printed parts in a multitude of functional applications.
Key Features
Create tough plastic parts
Achieve complex geometries
Thermal resistance of 58 degrees celcius
Available in 7 different colours
Key Applications include:
Jigs, fixtures & tooling
Designs with intricate curves
Large model toughness
Functional prototypes
New to 3D
Printing or looking
for some support?
Get in touch
Trade in
and trade up...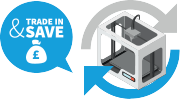 Your old 3D printer could be worth far more than you think!
Find out more